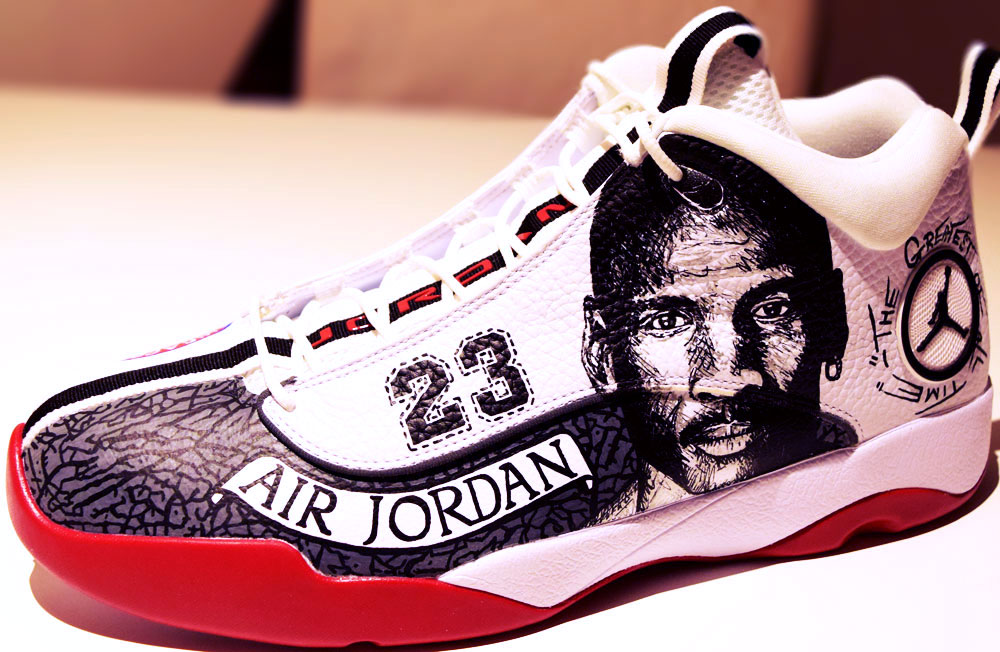 At Pistache, we Customize Shoes and Sneakers for global brands, art galleries and private sneaker collectors.
We customize shoes for private clients, international brands (like Reebok) and art galleries worldwide. We also paint live in-store in locations like Galerie Lafayette Haussmann (Paris), De Bijenkorf (Amsterdam) & Somerset House (London). Scroll down the page for more information about Ordering Customized Shoes, Brand Collaborations and Business Enquiries.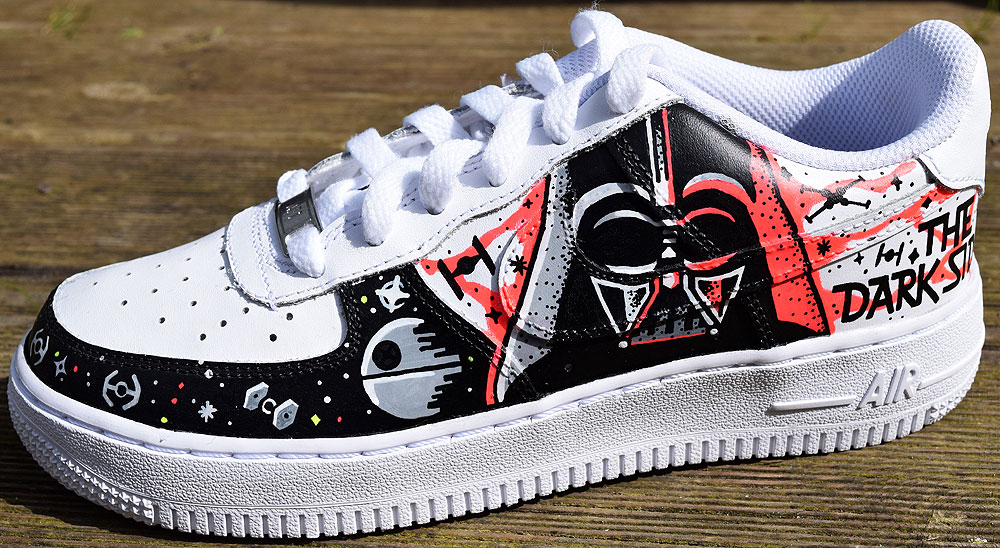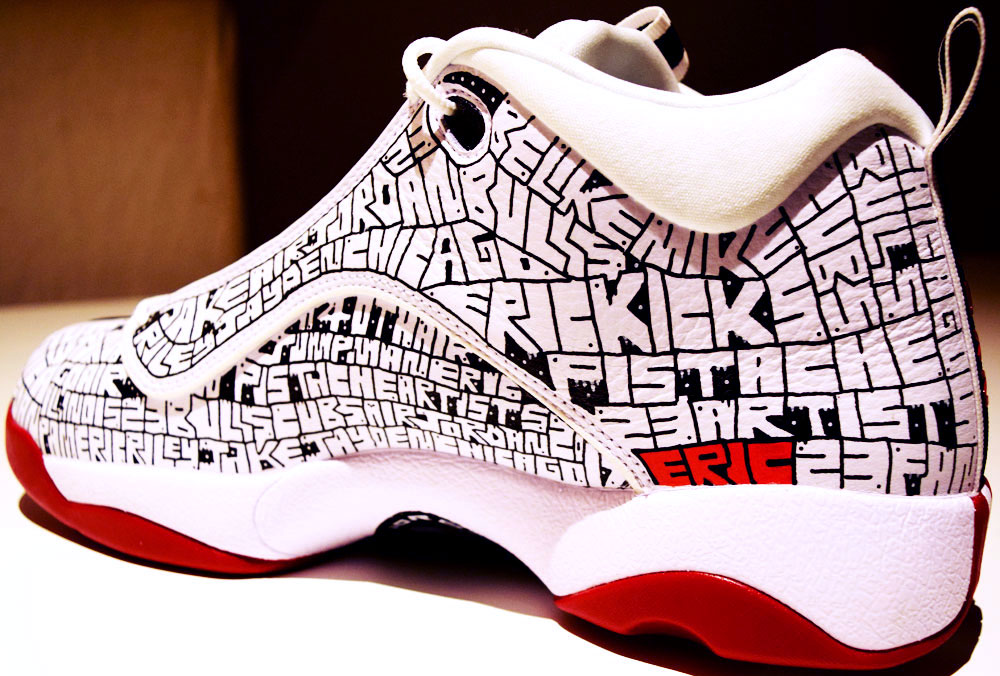 For all Sneaker Business and Brand Collaboration Enquiries.
Please contact Pistache Artists and mark your email for the attention of Jamie and he'll get back to you asap. The more details you can provide about your project, the quicker we can reply with an informed answer.
Ordering a pair of Hand Painted Customized Shoes.
If you want to order a pair of customized shoes, please contact Pistache Artists. We'll get back to you asap.
We can paint on almost any kind of shoes. However some styles and colours are a lot better for customizing than others. White canvas or white flat leather are ideal.
You can either supply us with the shoes or we can source a pair for you.
We can customise Vans, Nike, Air Jordan, Adidas, Reebok and pretty much any other sneaker brand.
Other kinds of shoes can also be customized, not just sneakers.
All of our custom shoes are finished with a weatherproof coating so they can be worn outdoors. However, most collectors don't actually wear the shoes, as they are one-off hand painted collectors items!
Worldwide shipping and guaranteed delivery dates if you need your customized shoes for a special occasion.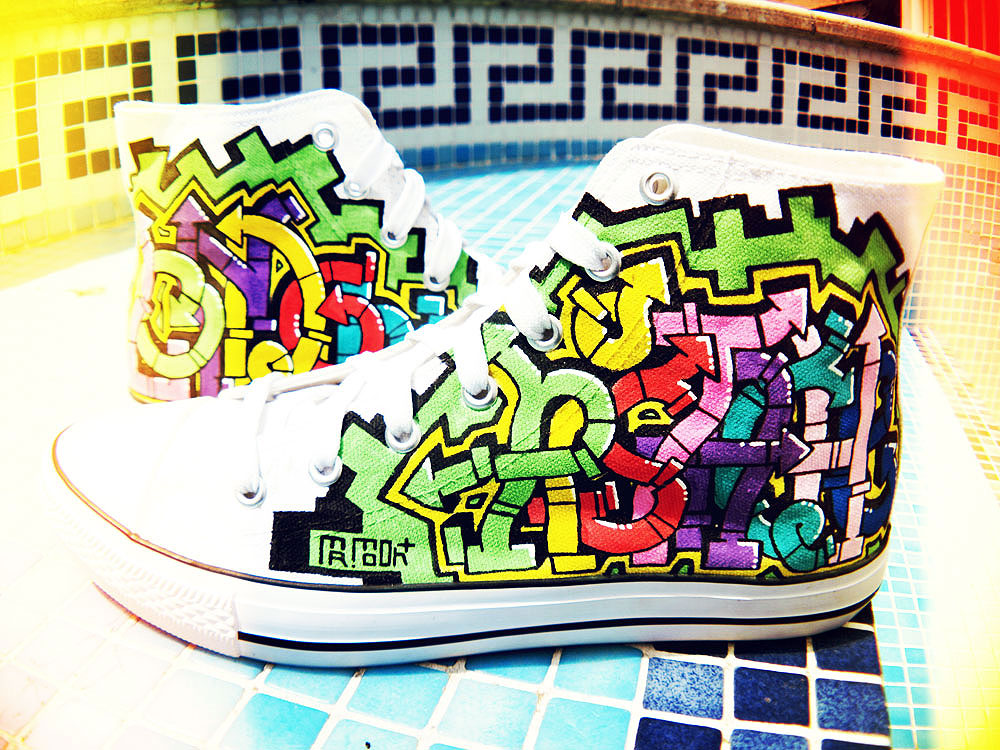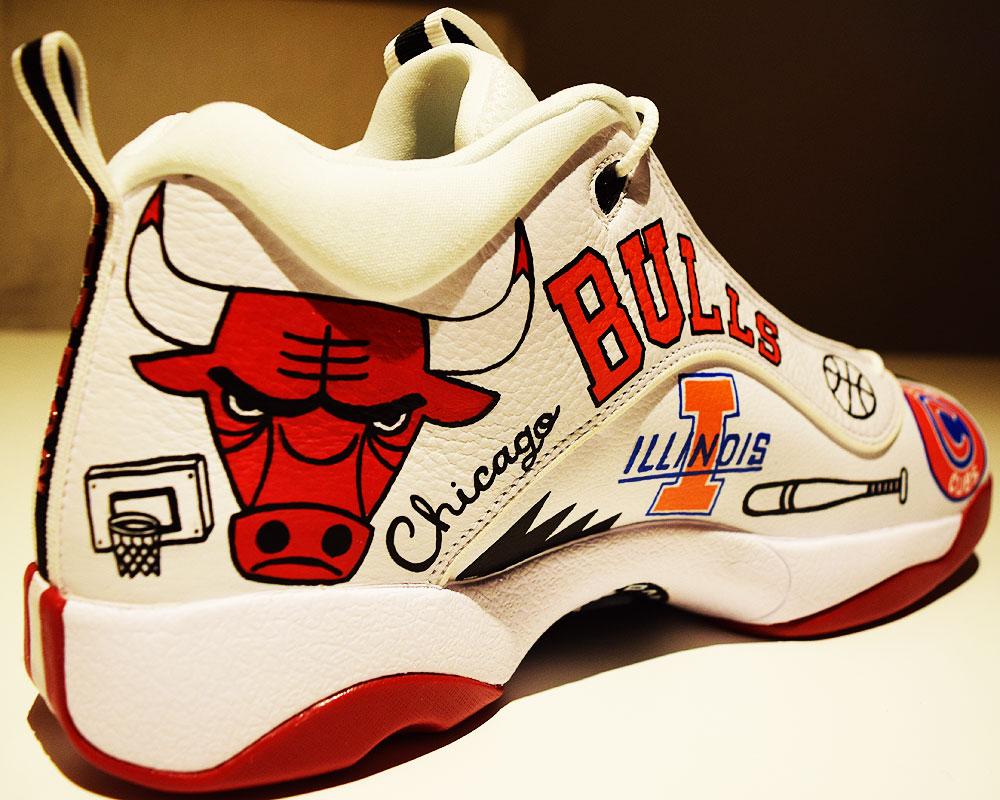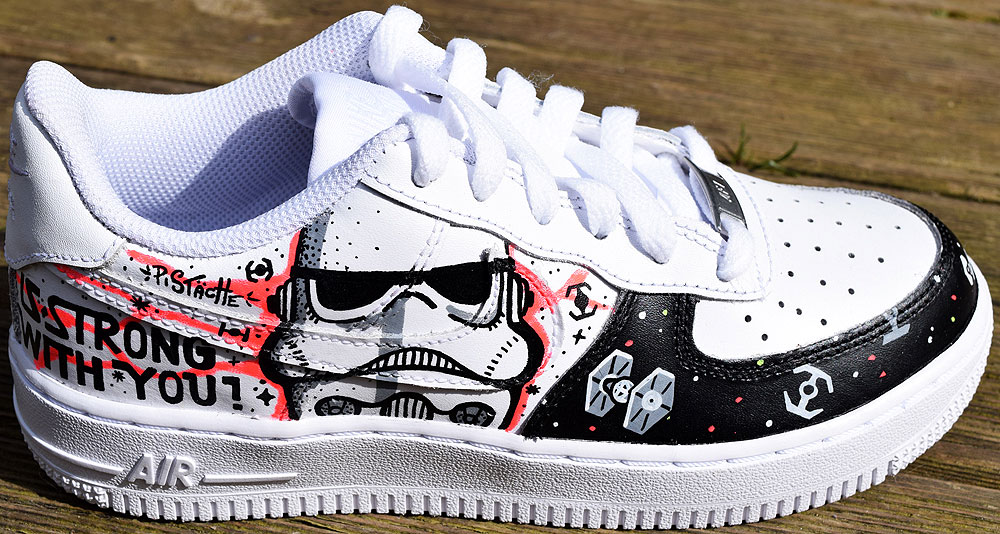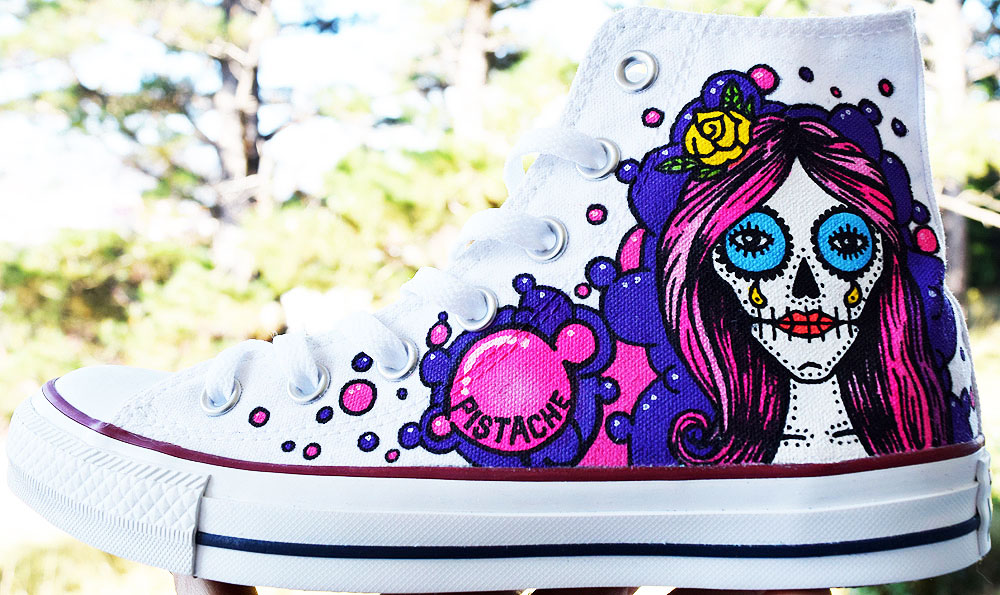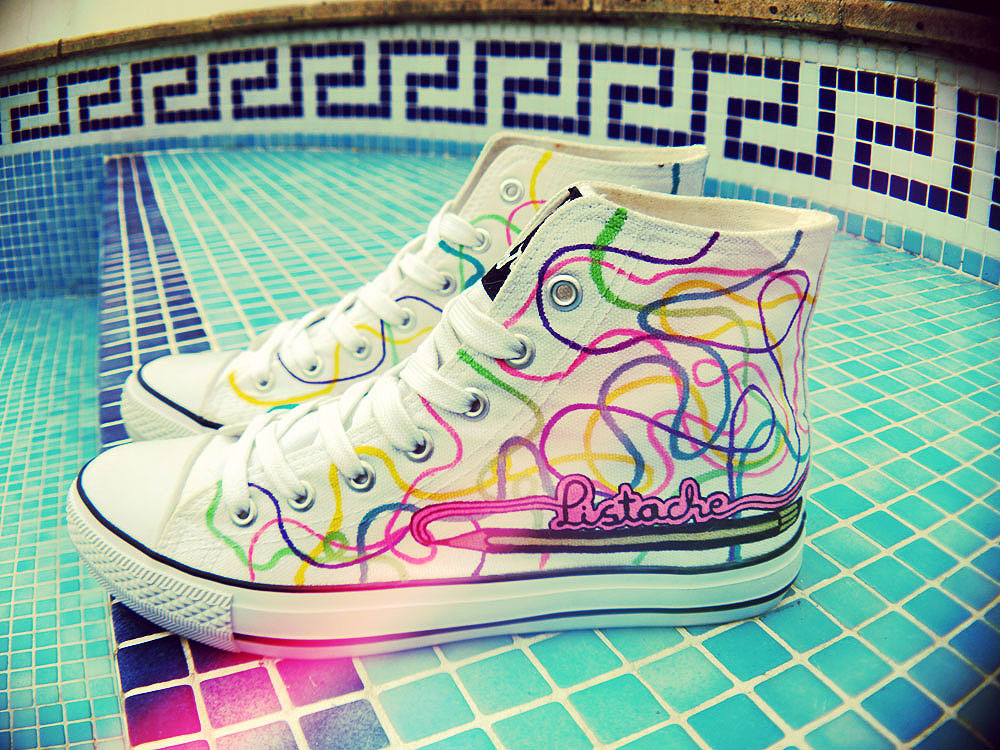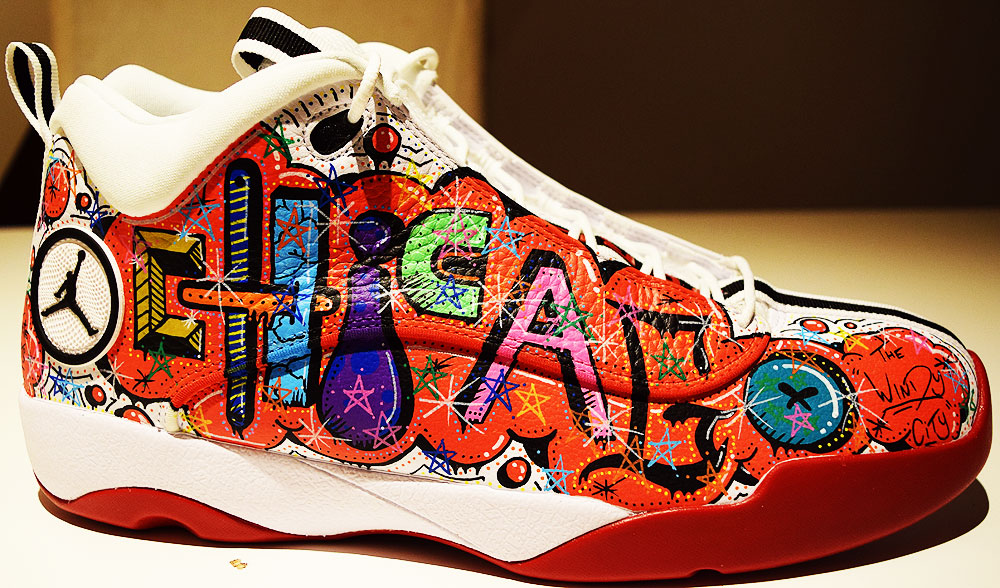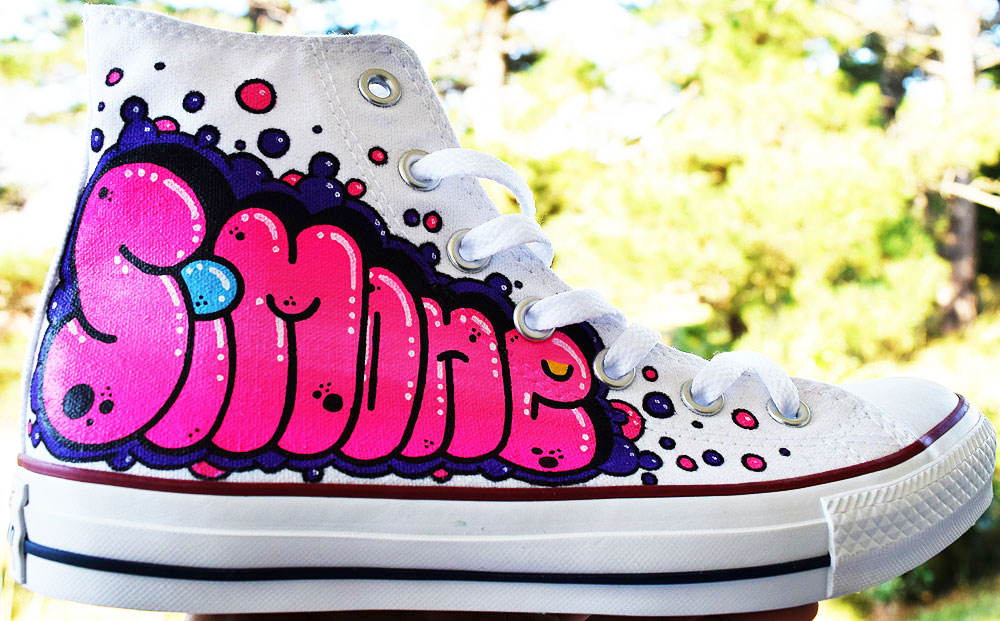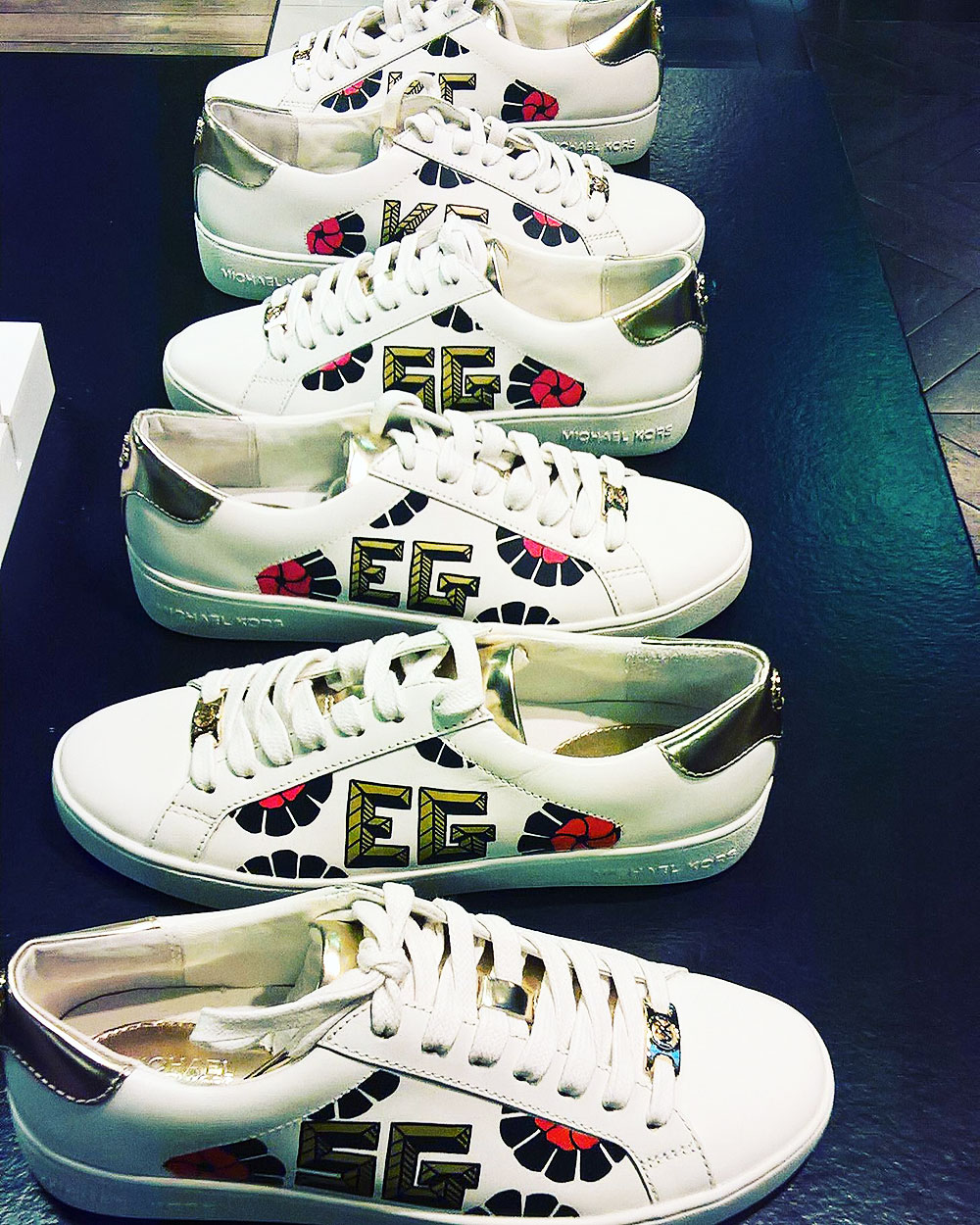 Why we Customize Shoes at Pistache.
Why do we customize shoes? To start with, we've been sneaker heads since the late 80s. We were inspired by Michael Jordans first shoe release, the now classic Air Jordan 1. That shoe showed up everywhere! Mike was wearing it on the court when we first started getting into the NBA.
At that time players were only allowed to wear white kicks on the court. David Stern decided he was going to fine Jordan every time he wore the black and red colourway in an NBA game. Nike quickly realised this was a marketing dream for them. They could easily afford to pay Jordan's fines and at the same time get amazing promo and marketing for the shoe. Even better, they could call it the 'banned' shoe.
The Air Jordan 1 also started showing up in other areas of our young lives, like skateboarding. We were skating in Converse Chuck Taylor All Stars and getting through them quickly. Then we saw the classic 80s skate video The Search For Animal Chin. It featured the skateboarding equivalent of basketball's 1992 Dream Team (Tony Hawk, Lance Mountain, Rodney Mullen, Steve Caballero, Mike McGill and Tommy Guerrero).
At that point the skate shoe industry wasn't what it is today. Even top-level skaters were switching shoes brands and models to try to find what worked best for them. In the early Bones Brigade videos, the Jordan 1 featured really heavily (as well as a few pairs of the Vans Sk8-Hi, Airwalk Vic, Converse Dr. J Classic, Nike Vandal, Converse CONS 100 & ERX, Puma First Round & Nike Court Force for all the geeks out there).
So our parents saw the value of spending a bit more on a pair of Js than having to buy more Chucks. You only need to look at the success of the Nike SB Dunk program to see the lasting influence of the Jordan on the skateboard industry.
At the same time as we got into basketball and skateboarding, we got into hip hop. Our first cassettes were 3 Feet High & Rising, Done By The Forces Of Nature, All Hail The Queen & Fear Of A Black Planet. Everyone knows that hip hop and sneakers go together like fish & chips (or peanut butter and jelly for everyone stateside).
The Jordan wasn't dominating like it was elsewhere. Adidas (RUN DMC), Troop (LL Cool J and MC Hammer) and Puma (MC Shan) were probably the main players in the hip hop shoe world at that time. So hip hop opened us up to a sneaker world beyond the Air Jordan.
Then all kinds of events happened in the shoe game that influenced our style. Eazy-E wearing the Nike Cortez, Spike Lee's Do The Right Thing, Tinker Hatfield designing Jordans and a lot more. So much happened that we'll try to do a post that goes into a bit more detail about all of that at some point.
So, the short answer. Sneakers came into our lives at a very early age through music and sports. They were now an important part of our world.
Both of us are creative people. We care about the small details, style and art in everything around us. That's why we love creating custom shoes for private collectors and working with brands on shoe projects.
How do we Customize Shoes.
How do we customize shoes at Pistache? Trial and error is how we learned. Practice is how we got better. We use all kinds of different pens and other products to customize shoes. What we use depends on the fabric, the type of shoe and the style of the artwork. Keeping things clean is also a priority when we're painting shoes. So we spend a lot of time preparing the shoes before we even start painting.
Time is obviously an important factor. So the time it takes to customize shoes will have a large effect on the final price. Contact us if you have any specific questions about techniques or products that we use. We're happy to share our secrets with motivated young artists, as long as the ask nicely.