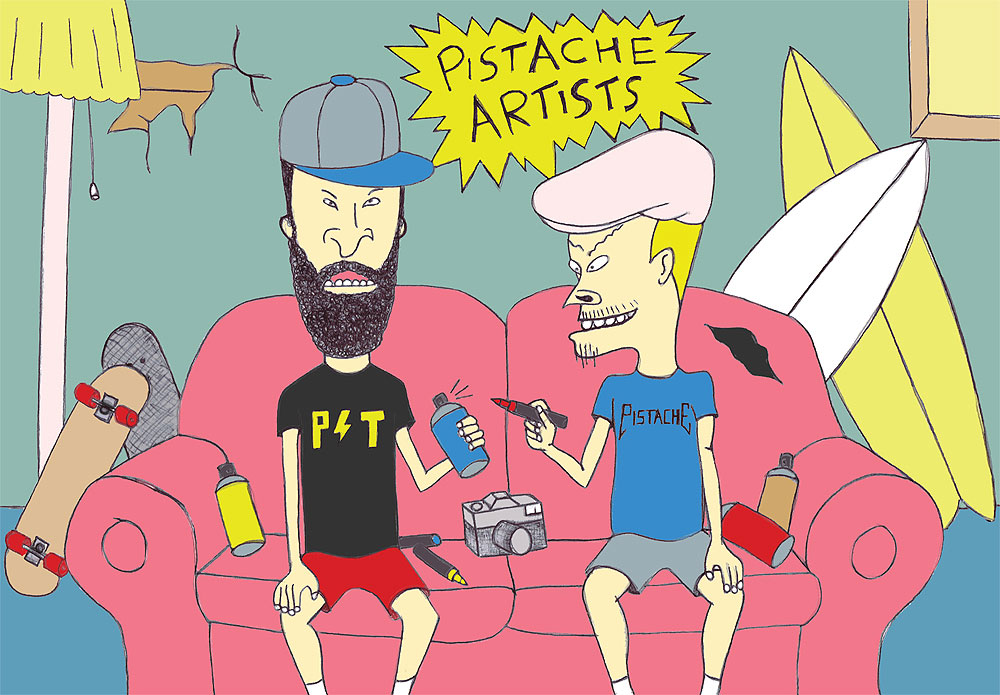 Art Commissions, Brand Collabs, Hire Artists for Events & Activations:
Email* – jamie@pistacheartists.com or Phone/WhatsApp him 0033(0)621106149.
General Enquiries:
Email* – info@pistacheartists.com
What do you get when you work with Pistache?
Art Galleries, Interior Designers & Architects – 1) Unusual Statement Pieces, Mural Painting, Original Artworks & Screen Prints for your clients. 2) We can produce "one off" or "limited edition" hand painted skateboards, canvases, surfboards, sneakers etc. 3) Hire Artists for Events (at your gallery or workplace)*.
Brand Activations – 1) In-Store Product Customisation Events (e.g. custom sneakers & shoes, denim etc). 2) In-Store Live Painting Events (canvases or murals painted live at brand events). 3) Product Collaborations (e.g. clothing design and graphics for capsule collections). 4) Online & Offline Content Generation (including visual communication & original story telling)*.
Hire Artists For Events – 1) Live Product Customisation (e.g. customising sneakers, shoes, denim & other products for event invitees). 2) Live Painting (extensive experience live painting canvases and murals at public and private events). 3) Live Screen Printing (products like t-shirts and other clothing)*.
Private Collectors – 1) Hand Painted Art Commissions, Murals & Portraits. 2) Hand Painted Custom Sneakers, Shoes, Skateboards and Surfboards. 3) Hire Artists for Events (with extensive experience live painting at private events)*.
Influencers – Working together to create interesting content for mutual benefit (e.g. featuring you wearing some custom sneakers or a hand painted portrait that we create exclusively for you)*.
Win Free Art, Art Supplies, Custom Sneakers & Clothing!
To improve our karma, we regularly Give Away Free Artwork, Art Supplies, Custom Sneakers & Clothing to our Subscribers!*
To participate, you just need to Subscribe Now, Good luck 🙂
Press & PR Contact:
Email – press@pistacheartists.com for all Press & PR enquiries related to art, live events, custom sneakers etc*.
About Pistache Art Studio:
Pistache is owned & operated by brothers Nick & Jamie Bennett. After many years working for other brands (such as American Apparel & Quiksilver), the brothers decided to go out on their own. Pistache, the registered company, was originally established in London in 2003 as a UK Hip Hop clothing brand. Now, with over 16 years of art & fashion expertise, Pistache has organically morphed into a multidisciplinary art studio. The studio services creative agencies, events agencies, brands, private clients, influencers, art galleries, interior designers, architects and wedding planners.
The brothers also own and operate a 'hand poked' tattoo studio called Indigenous Tattoo. They are available to be hired to paint live canvases and murals at public and private events. Pistache can also create custom sneakers, shoes, portraits and other products at events or by commission. They are available for brand collaborations, activations and art commissions. Pistache travels worldwide depending on their schedule and availability.
Pistache Creative Ltd is a limited company registered in England and Wales.
Registered number: 04870104.
Registered office: Aston House, Cornwall Avenue, London, England, N3 1LF.
*By contacting us via email, any other method of communication or using information provided by Pistache Creative Ltd or via any of our websites (for any inquiries including but not limited to ordering custom sneakers and hiring artists to paint live at events), you agree to be bound by our terms and conditions.